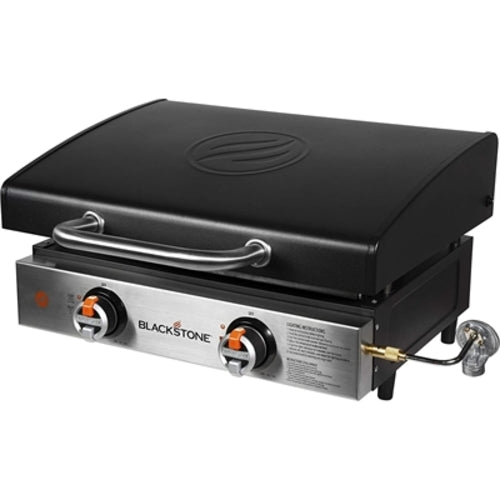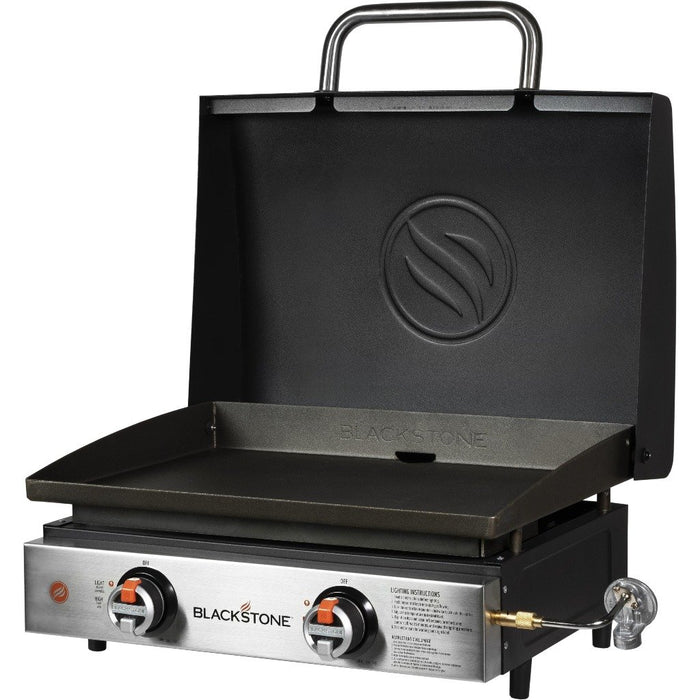 22" Blackstone Stainless Steel Tabletop Griddle with Hood
GRIDDLE ON THE GO with Blackstone stainless steel griddle. Whether you are entertaining the guests in the backyard or want to fulfill your years-long dream of breakfast-in-the-woods, our outdoor griddle offers a convenient way to cook a delicious spread when enjoying the nature.

COOKING FOR A CROWD? Don't worry; our gas griddle features a spacious 22" (339 sq. inch) cooking surface, which can fit up to 12 burgers or 9 steaks or 12 pancakes or 12 eggs, in short, a LOT! If you are out with your family or hosting a get-to-gather by the patio, our stovetop griddle has got you covered.

HASSLE-FREE CLEANUP: When you are done cooking, simply wipe the surface with a paper towel, empty the built-in grease catcher and that's it! Our tabletop griddle saves on the cleaning time so you can enjoy the outdoors and the fun time.

SPEED UP THE COOKING PROCESS: Our heavy duty griddle is equipped with a hood that traps the heat and speeds up the cooking process. The hood also works to keep the griddle pan clean between uses and protect it from the elements.

EVEN COOKING RESULTS GUARANTEED: Our flat griddle features two "H" style burners that product 24,000 BTUs of heat and a rolled steel upper surface to prevent any hotspots or cold spots. The heat intensity can be easily adjusted with two knobs.
This item is not included in our free shipping program.