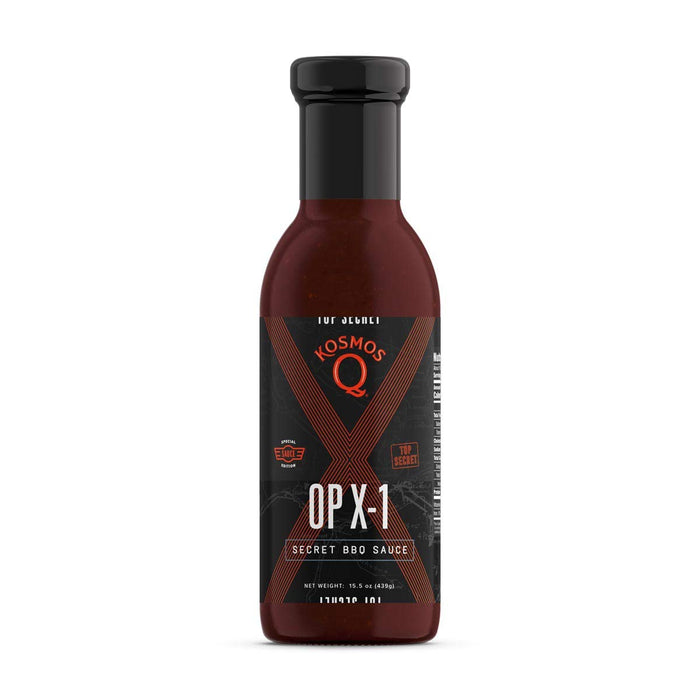 DESCRIPTION
A newly declassified blend of spices and tangy liquid ingredients all converge and put the taste of victory in a bottle. Its like the fourth of July in a bottle. Specially designed to boost morale at your next cookout, OP X-1 is a standout recruit in our line of competition tested and approved sauces. 
BBQ Sauce Ingredients:
Cane Sugar
Apple Cider Vinegar
Tomato Paste
Distilled Vinegar
Water
Molasses
Lemon Juice Concentrate
Vanilla Extract
Spice Blend Includes:
Salt
Paprika
Ancho Powder
Dried Onions
Mustard Seeds
Dried Garlic
Ginger Powder
Natural Smoke Flavor
A FLAVOR EXPLOSION: This delicious BBQ sauce is the perfect balance of sweet and savory, delivering a mouthwatering explosion of tangy and sweet flavor. Kosmos signature blend of spices is combined with hints of sweet molasses, ancho chili pepper, tart lemon juice, and natural smoke. It has a bold flavor, with a mild, yet thrilling, heat accent that your tastebuds will crave.
EASY TO USE: Our BBQ Sauce will add knock-your-socks-off flavor to just about any meat! Whether you use it as a rib glaze, marinade, dipping sauce, wing coating, or condiment for burgers and hot dogs, you can't go wrong. Enjoy sweet-smelling and deliciously succulent meat with our infinitely-customizable sauce!
ALL THINGS BARBECUE: With a versatile flavor that is great for kickin' up almost anything, this BBQ Sauce is a fantastic seasoning or glaze for a variety of meats, including chicken, pork, beef, and seafood. It's also the perfect sauce for spicing up your other favorite foods. You can use it as a pizza sauce or condiment and enhance the flavor of meatloaf, potatoes, baked beans, grilled veggies, and more!
Kosmos Q OP X-1 Secret BBQ Sauce | Traditional Sweet & Savory Flavor | Best Barbeque Sauce | Seasoning & Marinade | 15.5 Oz Bottle