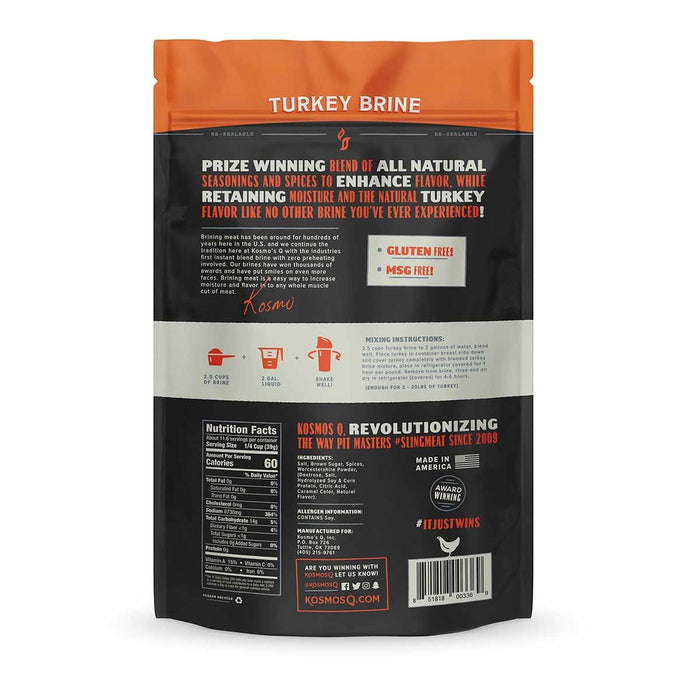 Enough for 2- 20lb Turkey
Adds Tons Moisture & Flavor
Perfect for Home or Backyard Use
Re-sealable Bags
Mixes in Seconds
No Heating Involved
Guaranteed Perfect Turkey
DESCRIPTION
Turkey Brine gets you AMAZING TURKEY every time. This Turkey Brine will change everything you thought you knew about moist turkey.  Add moisture and flavor to any cut of poultry! With our easy to use instructions you will get extraordinary results with any poultry. This is a Turkey Brine that mixes in seconds that will not fail you when it comes to enhancing moisture and flavor. Use it for smoked turkey, oven roasted turkey, frying turkey, and any other turkey you can think of. 
MIXING INSTRUCTIONS:
1 cup Turkey Brine to 1 gallon of water, blend well. Place turkey in brine bag breast side down and cover turkey completely with brine mixture, place in refrigerator covered for 1 hour per pound. Remove from brine, rinse and air dry in refrigerator (covered) for 4-6 hours. Rub with Kosmo's Q rubs and cook.
INGREDIENT STATEMENT: Salt, Brown Sugar, Spices, Worcestershire Powder, (Dextrose, Salt, Hydrolyzed Soy & Corn Protein, Citric Acid, Caramel Color, Natural Flavor). Contains: Soy.