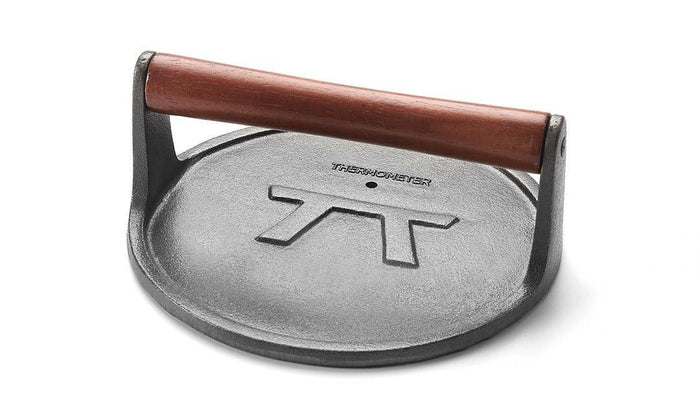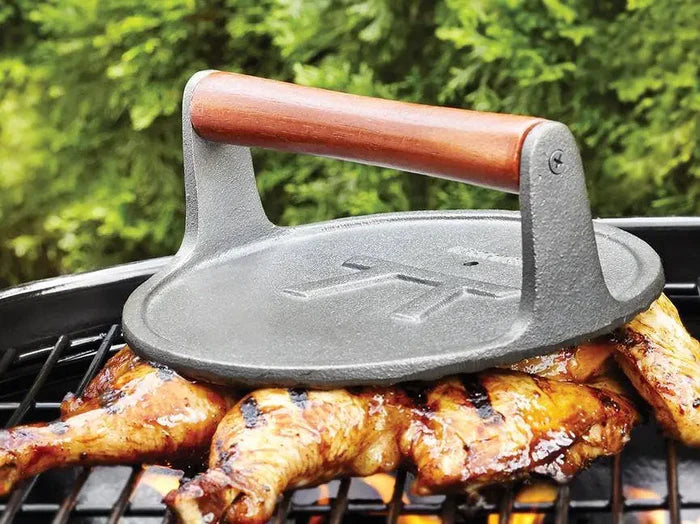 Outset Cast Iron Round Grill Press
Introducing the Ultimate Grill Press: Your Shortcut to Grilling Perfection!
Feeling pressed to grill the best burger? Look no further! Our Cast Iron Grill Press is your secret weapon for achieving burger nirvana, and here's why:
🍔 Flatter Burgers, Fuller Flavor: Our grill press is a culinary marvel that transforms your ordinary burger into a flavor-packed masterpiece. Its cast iron construction ensures even heat distribution, cooking both sides of your meat to perfection while expertly pressing out those unwanted fats. The result? Juicy, succulent burgers that are unbeatable in taste and texture.
🔥 Versatile Performance: Whether you're a grill master extraordinaire or prefer to work your magic in the kitchen, our grill press is your trusty sidekick. Use it on the grill to elevate your BBQ game, or bring it indoors for restaurant-quality burgers and sandwiches. And if you love bacon as much as we do, don't forget to check out our bacon press too!
🌟 Cool and Safe Handling: Safety is paramount, and that's why our grill press features a rosewood handle that stays cool even when the heat is on. Say goodbye to burnt fingers and hello to hassle-free, comfortable handling. Whether you're flipping, pressing, or maneuvering your grill press, you're always in control.
🏡 Indoor and Outdoor Excellence: The beauty of our cast iron grill press lies in its versatility. It seamlessly transitions between your indoor kitchen and your outdoor grill, making it a must-have for any cooking enthusiast. From weekday dinners to weekend BBQ extravaganzas, it's your ticket to culinary success, no matter where you are.
Don't let your burger dreams go up in smoke. Elevate your grilling game with our Cast Iron Grill Press, your path to the best burgers you've ever tasted. Get ready to savor every bite, and order yours today!